WaterGate Dam.

 Designed for quick installation & removal for inspection works
Working below ground with pipe lines and drainage systems we have seen the benefits in safety and efficiency that remote and CCTV inspection services have bought to the sector. We're bringing the same successful approach to over-ground structures, for bridge inspections and aerial infrastructure.
Our Unmanned Aerial Vehicles or UAV systems allow us to work with your engineers, gathering high quality information about the condition of your structures, all from the safety of the ground.
The fastest temporary dam…
The Water Gate Barrier is a portable dam manufactured in the UK for flood control and as a temporary cofferdam system designed specifically for quick, plant free installation.
Arguably the fastest temporary dam solution available the Water Gate cofferdam can be installed in minutes without the need for pumping because water flowing into the barrier causes it to deploy itself.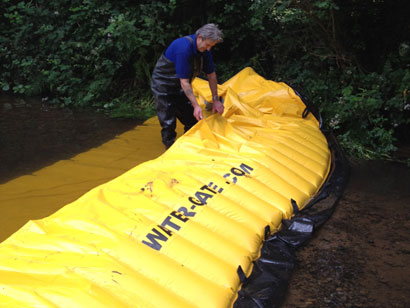 Easy to use…
The barrier is an ideal solution for contractors who need to perform minor works below the waterline in rivers, brooks or streams. Because of the speed and ease of installation the dam can be installed and removed at the start and end of each shift thereby reducing the environmental and flooding risks associated with leaving a temporary dam in-situ. We hire and install this system nationwide, providing training and monitoring procedures to enable our clients site staff to service the temporary dam.
The Water Gate Barrier is incredibly simple to install with no pumps or plant required. A 10m dam can be installed by two men in a matter of minutes. The temporary dam just needs to be laid across the river and held at the leading edge and the force of water inflates the dam.
Because the Water Gate Barrier is an entirely fabric dam it can be installed in almost any location with the ability to profile beds and banks.
The weight of the water entering the baffles creates a friction seal between the fabric base of the dam and the bed and holds it securely in place. This also achieves an excellent ground seal for the dam and minimise water travelling beneath the dam into the works area.
The Water Gate portable dam is modular and can be adapted to any shape or configuration, varying size dams can be connected to cope with changes in water depth.
The Water Gate Barrier can also be hired with a dedicated flume to channel surplus water downstream. Blue Reach Services hire the DA-1200 kit, with 22m of flume pipe capable of draining 90 litres per second and no mechanical pumping.
The Water Gate Barrier will remain in place with even when submerged and can act as a weir with up to 33% of it's controlled water depth passing over it. This makes it an ideal solution for contractors looking to increase water depths to create a sump pool, or to elevate water levels on a river or stream network to force water down a bypass channel or sluice.
We offer a WaterGate hire and installation services nationwide, providing trained operatives with construction and industry accreditation as standard.
Call 0121 31 31 008 today to find out more
In addition to temporary dam systems, we offer a wide range of environment solutions such as floating silt curtains, floating pontoons and work on water safety solutions. Call us for more information.
Comments are closed.